SKIN & TONIC IS NOW AN OFFICIAL Biologique Recherche PARTNER
Your skin will be so happy....
Biologique Recherche products require customized recommendations and instructions for use.
We encourage you to allow our estheticians to prescribe a routine based on your
skincare health, analysis and lifestyle.
This will ensure your best results in reaching your skincare goals.
We are over the moon with the results we've experienced and have witnessed.
If you are interested in seeing more firming and toning, have heard about the magical P-50,
or are in need of finding your glow....
We're certain your answers are currently on our shelves.
Biologique Recherche products meet specific criteria:

*Uses plant, biomarine and biotechnological extracts at very high concentrations – above 20% in most products

*Rule out the use of synthetic fragrances, to preserve the integrity of the formulas and try to avoid any adverse reactions

*Retain the original structure of the active ingredients as far as possible, by maximizing the use of cold processing in our formulas
*Ensure the effectiveness of a Biologique Recherche product through the composition and quality of its active ingredients
*Enhance the synergy between the products, our distinctive and original treatment techniques, and the Remodeling Face® treatment for instant and exceptional results
CLEANSERS
FACE CARE CLEANSING PRODUCTS REMOVE ALL TRACES OF MAKEUP AND POLLUTION.
THE ACTIVE INGREDIENTS INITIATE THE BEAUTY TREATMENT AND LEAVE THE SKIN SOFT AND CLEAN.
THESE PRODUCTS ARE USED IN THE FIRST STAGE OF EVERY BIOLOGIQUE RECHERCHE BEAUTY CARE PROGRAM.

LAIT U
This non-oily fresh cleanser protects skin's natural moisture levels. It is recommended for young, normal, combination and/or seborrheic SKIN INSTANTS.


LAIT VIP02
This "anti-pollution" cleanser eliminates impurities, calms the epidermis and brightens and unifies the complexion. It is recommended for stressed, devitalized SKIN INSTANTS.


LAIT E.V.
This soothing cleanser gently eliminates impurities and protects skin's natural moisture levels to leave velvety soft skin. It is recommended for dehydrated and/or devitalized SKIN INSTANTS.


SOLUTION DEMAQUILLANTE
This multi-phase makeup remover cleanses the eye area, respecting the sensitive, delicate skin without leaving a greasy film. This fluid combines make-up removal with a. southing treatment. It is suitable for all SKIN INSTANTS.
EAU MICELLAIRE BIOSENSIBLE
This gentle micellar formula combines hydrating and toning qualities with soothing and gentle cleansing qualities. The skin is fresh and clean without destabilizing the hydrolipidic film. It is ideal for sensitive, reactive and weakened SKIN INSTANTS. Can be used as your pre-cleanse before using your Biologique milky cleanser or it can be used as a quick cleanse on its own.


LOTIONS
THE LOTIONS P-50 ARE THE CULMINATION OF 40 YEARS OF REFLECTION AND EXPERIENCE.
THE LOTIONS P-50 BALANCING EXFOLIATORS SPEED UP THE EPIDERMIS' NATURAL EXFOLIATION PROCESS
AND THE RECONSTRUCTION OF THE EPIDERMAL SHIELD. THE FORTIFIED EPIDERMIS CAN THEN EFFECTIVELY FUFULL
ITS PROTECTIVE FUNCTIONS, THUS ENHANCING SKIN'S SELF-GENERATION POTENTIAL.
LOTION P-50, THE MOST FAMOUS AND COVETED PRODUCT, IS THE CORNERSTONE TO BIOLOGIQUE RECHERCHE SKIN CARE TREATMENTS,
WHETHER ADMINISTERED AT HOME OR IN A BEAUTY INSTITUTE. THIS LOTION GENLY EXFOLIATES THE SKIN,
AND REGULATES EXCESS SEBUM SECRETION

LOTION P50W
This is the gentlest exfoliator with a formula rich in anti-inflammatory active ingredients. It is recommended for sensitive SKIN INSTANTS.

LOTION P50 PIGM400
This exfoliating and brightening lotion is ideal for dull complexions with hyperpigmented marks. It is recommended for pigmented and dull SKIN INSTANTS.

LOTION P50
This gentle, balancing exfoliator is recommended for seborrheic and/or hyper-keratinized SKIN INSTANTS.

LOTION P50V
This gentle, balancing, vitamin enriched exfoliator tones the skin. It is recommended for less toned and/or devitalized SKIN INSTANTS.


MASQUES
MASQUES CONTAIN HIGH CONCENTRATIONS OF ACTIVE INGREDIENTS TO BALANCE AND PURIFY THE EPIDERMIS AND PRESERVE
ALL THE BENEFITS OF PREVIOUS TREATMENTS PERFORMED.
THEY CONTAIN ESSENTIAL FATTY ACIDS TO REPLENISH THE SKIN'S PROTEO-LIPIDIC FILM AFTER EXFOLIATION.
UNLIKE OTHER BRANDS, BIOLOGIQUE RECHERCHE MASQUES ARE APPLIED IN THE MIDDLE OF THE SKIN CARE PROGRAM TO AVOID REMOVING THE ACTIVE INGREDIENTS USED IN THE TREATMENT STAGE WHEN REMOVING THE MASQUE.
WITH A WIDE ARRAY OF OPTIONS, BIOLOGIQUE RECHERCHE MASQUES ARE EXCEPTIONAL CONTRIBUTORS TO THE HEALTH OF YOUR SKIN.

BIOMAGIC MASK
This energizing mask is formulated with a subtle combination of mineral ingredients. It leaves the skin glowing, soft and purified and is recommended for devitalized and/or less toned SKIN INSTANTS.

MASQUE VIVANT
This balancing mask contains high concentrations of yeast, cucumber and witch hazel extracts, known for their skin purifying properties. It is recommended for seborrheic, dull and/or less toned SKIN INSTANTS.

MASQUE VIP02
This oxygenating and moisturizing treatment restores radiance to stressed, asphyxiated skin. Its formula is rich in moisturizing botanical ingredients and contains the specific Biologique Recherche Oxygenating Complex, which stimulates epidermal regeneration and revitalizes the skin. It is recommended for dull, tired and/or stressed SKIN INSTANTS.
MASQUE VISOLASTINE+
This completely natural solution boosts hydration in the upper layers of the epidermis and strengthens the skins barrier to protect against dehydration. Its long lasting moisturizing action provides soft, comfortable skin for the entire day.

PATCHS DEFATIGANTS (EYE MASK)
Pre-soaked in a formula enriched with anti-puffiness, anti-bag and anti-wrinkle active ingredients, the Patchs Defigants perfectly adhere to the eye contour area. Immediately, puffiness is reduced, the skin is smoothed and wrinkles and lines are less visible.
MASQUE BIOSENSIBLE
This fresh, luxurious cream mask is enriched with fatty acids, hyaluronic acid, anti-stress actives and the specific Biologique Recherche Oxygenating Complex. Its formula contains high concentrations of active ingredients renowned for their high tolerance. It will soften and soothe dehydrated, sensitive and reactive SKIN INSTANTS.

MASQUE PIGM400
Pre-soaked lyocell sheet masks work as an excellent radiance booster, reduces complexion irregularities and brightens the skin. Prevent and repair hyperpigmentation with these soft as silk sheet masks that suppress melanocytes that contribute to pigmentation marks.

TOLESKIN MASK
An essential ally against skin reactions, Toleskin [M] is the « anti-atopy crisis » mask. Based on Balloon plant Extract, the ultimate soothing active ingredient, it will provide the necessary comfort to the epidermis before or after the skin outbreak. Its replenishing formula will provide the skin with the fatty acids required to limit water loss and truly strengthen the skin barrier.
It immediately calms the redness, providing a comforting and soothing effect. The skin is left healthier and stronger, able to protect itself against the external aggressions of everyday life. Serum manufactured in a sterile environment. Tested under dermatological control.
Recommended for intolerant Skin Instants©.

MASQUE BIOFIXINE
A genuine ally against wrinkles, Masque Biofixine acts on the surface and appearance of wrinkles, whether they are static (due to skin aging) or mechanical (due to muscle contractions). Myorelax Peptide, known for its relaxing effect on muscle micro-tension, helps correct expression lines on the face.
Its hydrating and antioxidant active ingredients form a protective film and help maintain the skin barrier's integrity to act on dehydration lines. Wrinkles are visibly plumped up, skin is smoother, facial features are tightened. Recommended for Skin Instants© showing the first signs of wrinkles.

PLATYSMA anti-ptosis chin mask
With its unique shape and stretchy tissue tailored to the area under the chin, Platysma combines the benefits of an anti-gravity and anti-ptosis mask in a single step. The support's mechanical action combined with firming active ingredients is similar to a face massage and tighten the skin.Facial volumes are more harmonious and the face contours are revealed.
Skin Instants© with sagging contours.


QUINTESSENTIAL SERUMS
THE QUINTESSENTIAL SERUMS ARE THE PUREST FORMULATIONS IN THE BIOLOGIQUE RECHERCHE RANGE.
THEIR MAIN ACTIVE INGREDIENTS ARE AMINO ACIDS AND SHORT PEPTIDES. THEY ARE DESIGNED TO TREAT SPECIFIC
SKIN IMBALANCES (ie.DEHYDRATED, DEVITALIZED, LINED AND/OR SEBORRHEIC SKIN ETC.)

EXTRAITS TISSULAIRES
This moisturizing and revitalizing bioserum soothes stressed skin and prepares it for more intensive treatment. It is recommended for all SKIN INSTANTS, even reactive skin and/or seborrheic skin and is ideal for young skin.

AMNIOTIQUE
This intensive hydrating, revitalizing and soothing bio-serum is recommended for all SKIN INSTANTS. It is ideal for stressed, devitalized, dehydrated and/or sensitive skin.
COMPLEXE IRIBIOL
This balancing serum helps to regulate sebum secretion and tightens the pores. it is made with Iris and Zinc extracts for customized treatment of skin imperfections. It is recommended for skin imperfections and/or combination and seborrheic skin.

DERMOPORE
This purifying and balancing treatment has been developed in response to the specific problems of hyper seborrheic, acneic and/or hyperkeratinized with dilated pores SKIN INSTANTS. It refines the skin texture, tightens the pores, and unifies the complexion.

ELASTINE
This bio-serum smoothes the epidermis, helps offset the skin's loss of elasticity and also reduces the appearance of wrinkles and fine lines. It is recommended for all SKIN INSTANTS and is ideal for treatment of first wrinkles, expression lines and the eye and mouth areas.

ISO-PLACENTA
This smoothing serum purifies and tones the epidermis while restoring epidermal elasticity. It is recommended for skin with imperfections and/or seborrheic skin.

SERUM A-GLYCA
Thanks to this serum, the glycation reaction (effects of sugar on the skin) can be prevented and counteracted with a gain of 2 years of glycation in 2 months of use. It will reduce wrinkles and improve the evenness of the complexion. It is recommended for SKIN INSTANTS affected by skin aging.

LIPOSMOSE
Specifically formulated for congested eyes, Liposmose provides a long lasting solution by targeting water and fatty under eye bags, as well as though due to cutaneous aging. Day after day the volume of puffiness is reduced, the eyes are revitalized and the eye contour is smoother.

COLLAGENE NATIF
This is a firming and astringent bio-serum with collagen as the main ingredient. It tightens the skins pores and improves the contour of the face. It is recommended for all SKIN INSTANTS and is ideal for dehydrated, less toned skins or for thick skins with dilated pores.

VG TENSIL
This intensive firming serum tightens the skin to combat sagging. It has a lifting effect that leaves the face firmer and smoother. Recommended for dull, sagging SKIN INSTANTS.

COLOSTRUM VG
This intensely moisturizing bio-serum contains milk proteins which enhance the skins natural defense mechanisms and improve its elasticity. It provides emergency treatment for dehydrated, slack skin and is recommended for very dry and devitalized SKIN INSTANTS.

OLIGO-PROTEINES MARINES
This bio-marine serum energizes and revitalizes the skin, helping stimulate its natural functions and unifying the complexion. Helpful for those prone to dark circles under the eyes. It provides emergency treatment for stressed skin and is recommended for devitalized, dull SKIN INSTANTS with imperfections.


TARGETED SERUMS

SOME SKIN INSTANTS MAY PRESENT SPECIFIC BUT TEMPORARY IMBALANCES THAT REQUIRE
TARGETED TREATMENT
THIS IS WHY BIOLOGIQUE RECHERCHE HAS DEVELOPED THE TARGETED SERUMS, A NEW GENERATION OF SERUMS.
THEIR COMPOSITION IN PHYTO-BIOLOGICALLY AND BIOTECHNOLOGICALLY ADVANCED INGREDIENTS WILL ATTACK THE CAUSES AND CONSEQUENCES OF OBSERVED DYSFUNCTIONS. IE. SENSITIVITY AND ROSACEA, PIGMENTATION AND ADVANCED AGING.
SERUM BIOSENSIBLE
This concentration of soothing, moisturizing and protective ingredients restores an impaired epidermal tolerance threshold. Formulated without artificial fragrance and with enriched cellular kiwi water, it reduces cutaneous sensitivity, soothing and moisturizing weakened skin. It is recommended for reactive and sensitive SKIN INSTANTS.

SERUM ERYTHROS
This serum is ideal for the treatment of skin with rosacea tendency. It helps to diffuse redness and prevent the formation of new blood vessels. It is recommended for sensitive skin prone to redness.

SERUM T.E.W.L.
This serum protects and prevents extreme dehydration of the skin. Helping greatly to reinforce epidermal protection systems, this serum works like a genuine lipidic shield thanks to its formula boasting a wealth of lipid replenishing, repairing, and protective active ingredients. By preserving optimal hydration, the skin is better able to defend itself and to withstand extreme conditions of cold.

SERUM MATRICIEL VISAGE
For distended SKIN INSTANTS lacking structure and tone, this serum plumps up the volume and improves cutaneous tension. The signs of aging are immediately, durably and visibly reduced.

SERUM PIGM 400
Its formula, boosted with lightening agents twice as concentrated as Creme PIGM 400 provides a super effective response to inhibited melanin synthesis. In addition, its photo protective and anti-free radical agents slow skin aging. It is recommended for dull and pigmented SKIN INSTANTS.
LOTION MC110
This restructuring lotion exfoliates and tones the epidermis, while smoothing lines and wrinkles. It refines the contours of the face and the skin appears brighter and smoother. Used to supplement your recommended Lotion P-50, and a boost under any Biologique Recherche masque.


CREMES
THE CREMES ARE APPLIED TO THE FACE, NECK AND DECOLLETE AND SUPPLY BALANCED BOTANICAL, BIOLOGICAL AND MARINE ELEMENTS TO THE SKIN.
THE CREMES HAVE A SPECIAL TEXTURE THAT MOISTURIZES WITHOUT LEAVING AN OILY FILM. THEY ARE EASY TO APPLY AND RICH IN ACTIVE INGREDIENTS, PROVIDING OPTIMUM RESULTS WITH A DIME-SIZED AMOUNT. MOST BIOLOGIQUE RECHERCHE BEAUTY HOMECARE PROGRAMS INCLUDE TWO DIFFERENT CREAMS, ONE FOR DAYTIME AND ONE FOR NIGHTTIME.
CREME ADN METAMORPHIQUE
An exceptional firming care, Creme ADN Metamorphique combats sagging skin and ptosis by restructuring the oval of the face. Thanks to its tightening action, it creates a real "lifting effect"to help restore the skins elasticity and firmness. The skin appears tighter and more plumped up. Ideal for sagging SKIN INSTANTS that lack structure and tone.

CREME BIOFIXINE
Creme Biofixine belongs to the latest generations of anti-aging creams. It is enriched with Myorelax peptide, known for its relaxant effect on the microcontractions that cause lines and wrinkles to form. Recommended for SKIN INSTANTS that are beginning to show wrinkles.

CREME DERMOPURIFIANTE
Creme Dermopurifiante, with its mattifying and astringent properties is the ultimate sebum regulating product. It purifies the epidermis to rid the skin of imperfections like dilated pores, blackheads and micro-cysts- and prevents them from reappearing.Its soothing active ingredients calm any inflammation that may cause redness, giving the complexion an even appearance.
CREME ELASTINE
Creme Elastine is a smoothing treatment that reduces the appearance of fine lines and wrinkles. Its unique texture mimics the skins structure to boost its hydration without leaving an occlusive oily film. The skin gains in elasticity, suppleness and softness. Recommended for dehydrated SKIN INSTANTS with signs of aging.


CREME GRAND MILLESIME
This revitalizing beauty cream combines cellular extracts and a highly efficient phyto-biological antioxidant complex to rejuvenate the skin on a daily basis. It is recommended for devitalized SKIN INSTANTS.

CREME HYDRAVIT'S
Creme Hydravit's is the ultimate in moisturizing skincare. It acts on several levels to infuse the epidermis with long lasting hydration. It's revitalizing active ingredients promote cell renewal to regenerate the skin and recharge it with energy. Skin is soothed and feels more comfortable, with a fresh glow.

CREME ISO-PLACENTA
Creme ISO-Placenta provides intense regenerative skincare, specifically for acne-prone skin. It promotes cell regeneration to diminish the appearance of imperfections caused by acne, deeply nourishing skin tissue by biomimicking the properties of human placenta. Acne scarring is healed and the skin surface becomes more even with less redness.

CREME MASQUE VERNIX
Creme Masque Vernix helps recondition the epidermis so it feels practically "born again." Drawing inspiration from the epidermal protective barrier of the newborn, this cream/mask is formulated with a selection of active ingredients rich in lipids, proteins and antioxidant peptides that virtually reproduces the original composition of vernix. This products revitalizes, regenerates and protects the skin.
CREME MSR-H
Creme MSR-H is a high concentration of active ingredients that target the skin imbalances caused by menopause. Its dermo-regenerating formula acts to redensify skin tissue, making it firmer and more elastic. Wrinkles and fine lines are smoothed out as skin regains its plumpness. Giving intense and lasting hydration, it combats the skin dryness that can be a common complaint at this time of life.

CREME PIGM 400
Creme PIGM 400 is a concentrate of active ingredients that brightens and protects the skin while reducing the appearance of dark spots. It is specially formulated as both a corrective and preventative treatment, helping reduce the intensity of existing pigment spots and prevent the appearance of new blemishes. The complexion becomes more radiant and skin is more uniform.

CREME SPLENDIDE
Creme Splendide is a genuine vitality boost that helps combat skin aging. This high performance cream brings firmness, tone and hydration. Used daily, it redensifies ski over time to give a fresh, natural glow and smoother facial contours.

CREME VERTE ESPOIR A.R.
Ideal for tackling redness, Creme Verte Espoir A.R. prevents and reduces the sign of rosacea. It acts on broken capillaries, visibly reducing the appearance to decrease the extent and intensity of chronic redness. The skin skin reactions that cause occasional patches of redness are also subdued. Fragile and reactive skin feels instantly soothed, and the complexion regains a more uniform appearance. Recommended for SKIN INSTANTS with erythro-rosacea.

CREME VG DERM
Enriched with nourishing and moisturizing active ingredients, Creme VG Derm helps replenish the lipids in the skin and strengthen its natural barrier to limit water loss from the epidermis. It delivers optimal, long-lasting hydration in the epidermis, even in the driest areas. Skin is relieved of any feelings of tightness, and generally feels moisturized and comfortable.

LE GRANDE CREME
A ground breaking innovation, Le Grand Creme tackles all age related skin concerns. "Epigenactiv" switches off the genes that are involved in the process of skin aging, to enable the ultimate regeneration. Its active ingredients improve the functional architecture of elastin and collagen fibers, giving a "real" lifting and anti-wrinkle effect. Skin on the face is strengthened, its contours are restructured and the complexion is clearer and more even. Recommended for SKIN INSTANTS showing signs of epidermal aging.

BIOKISS
Biokiss is an exceptional regenerating balm that nourishes dry lips and smooths flakiness or chapping. Its antioxidant and soothing properties protect lips from environmental damage, keeping them more comfortable and softer. Recommended for dry and damaged LIP INSTANTS.

EMULSION ORIGINELLE REGENERANTE
Made with macadamia oil and and plant-derived squalane, this face cream regenerates skin's natural lipidic barrier while protecting it from environmental damage. When applied, it instantly makes the skin look more even and the complexion brighter. Recommended for dehydrated SKIN INSTANTS and/or those lacking in lipids.

EMULSION GEL BIOSENSIBLE

Emulsion Gel Biosensible calms and alleviates skin discomfort thanks to its soothing and hydrating active ingredients. This gel brings immediate relief to fragile or weakened skin, restoring a radiant complexion. Recommended for sensitive, reactive, or damaged SKIN INSTANTS.

EMULSION GEL BIOSENSIBLE S.R. (sebum regulating)
Emulsion Gel Biosensible S.R. instantly calms skin discomfort while also smoothing its surface texture. This gel acts on two fronts, both alleviating skin sensitivity and reducing imperfections. Use of this non-comedogenic product leaves the complexion looking even, mattified and rested. Recommended for sensitive SKIN INSTANTS that are prone to acne.


GEL ADN SILKGEN
Gel ADN silkgen is a fresh moisturizing fluid enriched with antioxidant active ingredients. Made with salmon DNA and silk extract, this gel preserves the moisture level of the epidermis. Skin is left silky smooth, rehydrated and radiant with vitality. Recommended for dehydrated SKIN INSTANTS and also ideal for mens skin and skin exposed to hot climates.


EYE CONTOUR CREAMS


THE AREA AROUND THE EYES IS PARTICULARLY SENSITIVE, AND WE DON'T OFTEN ACCORD IT THE IMPORTANCE IT DESERVES.
AS THE EARLIEST ZONE TO SHOW SIGNS OF AGING, IT REQUIRES A VERY SPECIFIC REGIMIN OF HYDRATION AND NUTRIENTS.
OUR PRODUCTS, INTENDED FOR BOTH YOUNG AND MATURE SKIN INSTANTS, WILL MOISTURIZE, RELAX OR SMOOTH AS NEEDED.
CREME CONTOUR YEUX ET LEVRES BIOFIXINE
This eye cream genuinely tackles the signs of aging by filling in wrinkles and fine lines that have already appeared. Its formula is rich in antioxidant active ingredients to help protect the skin from environmental damage and thereby combat cutaneous aging Wrinkles around the eyes seem lifted and those around the mouth are plumped up for more defined lips. Recommended for SKIN INSTANTS with wrinkles.

CREME CONTOUR DES YEUX BIOSENSIBLE
This eye cream is a complete eyecare treatment full of soothing and protective active ingredients, formulated for use even on the most sensitive face. Its opthalmalogically and dermatologically proven to be safe to apply to the hyper sensitive area around the eyes, instantly relieving skin dryness while also reducing the appearance of dark circles.

CREME CONTOUR DES YEUX VIP02
This eye cream neutralizes the polluting agents that sit on your skin, preventing them from reaching the epidermal cells and causing them damage. It contains active ingredients to target dark circles, triggering the elimination of pigments that deepen the color of skin around the eyes. The appearance of dark circles is diminished, and eyes look rested and brighter.


FINISHING SERUMS
THESE SERUMS PROVIDE THE FINISHING TOUCH ON THE BIOLOGIQUE RECHERCHE FACE CARE REGIMEN.
THEY CAN BE APPLIED BOTH
UNDER AND OVER CREAMS TO GIVE THE SKIN A NATURAL GLOW AND RADIANCE.
THESE PRECIOUS FLUIDS CONTAIN BOTANICAL EXTRACTS WITH A VARIETY OF VITAMINS AND ANTIOXIDANTS, AS WELL AS
HYALURONIC ACID AND POTENT MOISTURIZING AND OXYGENATING DNA EXTRACTS.
THEY MAKE AN EXCELLENT BASE FOR MAKE-UP AND ARE PERFECT FOR USE ON BOTH A DAILY BASIS AND FOR SPECIAL EVENTS.
FINISHING SERUMS PROLONG AND PROTECT THE EFFECTS OF THE BIOLOGIQUE RECHERCHE SKIN CARE PRODUCTS.

FLUIDE VIP02
Fluide Vip o2 is formulated with anti-pollution ingredients to shield skin from polluting particles. Its unique formula contains a concentration of Biologique Recherche Oxygenating Complex and antioxidant active ingredients, giving this product the power to combat oxidative stress. It gives skin an instant boost, bringing a radiant glow and brightening the complexion.

SERUM GRAND MILLESIME
This youth elixir contains a wealth of regenerating active ingredients to help slow down the signs of aging, smooth out wrinkles and fine lines, and tone the skin. This antioxidant treatment protects and strengthens the skins natural defenses.
Recommended for SKIN INSTANTS showing the first signs of cutaneous aging.
SILK PLUS
The ultimate elixir of softness, Silk Plus Serum mattifies epidermises that tend to become shiny as the day goes on. The formula also comforts fragile skin and creates a barrier to protect the skin from free radicals. The peachy skin effect with Silk Plus leaves the complexion matte and radiant and light is beautifully reflected off the skins surface. Recommended for acne prone or sensitive SKIN INSTANTS.

SERUM YALL-O2
A real shock treatment to boost hydration, Serum YALL o2 contains ultra high doses of hyaluronic acid and antioxidant plant extracts. This intense hydrating treatment provides the amount of moisture the skin needs to function properly and feel comfortable. The effect is instant, as the fine lines caused by dehydration are plumped up.

L'EAUXYGENANTE
This moisturizing antioxidant and oxygenating mist stimulates the epidermis, enveloping it in a protective veil. it contains high concentrations of vitamin A and C, extracted from orange and kiwi cells as well as potent anti free radical properties and the specific Biologique Recherche Oxygenating Complex. This facial spray preserves the epidermis' acid PH and is recommended for all SKIN INSTANTS.
*USE AFTER YOUR RECOMMENDED LOTION P-50
*TO DILUTE LOTION P-50W FOR SENSITIVE SKIN
*TO REHYDRATE THE SKIN AFTER REMOVING A MASK
*BEFORE AND/OR AFTER A CREME OR AS A MIST OVER MAKE-UP TO BRIGHTEN THE COMPLEXION
*TO REFRESH INSTANTLY ANY TIME OF DAY

LE GRAND SERUM
An absolute elixir, Le Grand Serum will act on major skin issues linked to age to combat signs of aging. This finishing serum brings exceptionnal results, leaving the skin plumped up , toned and luminous. The appearance of skin is improved, wrinkles are visibly reduced and complexion is more radiant.
BIOLOGIQUE RECHERCHE METHODOLOGY
STEP 1: THE ASSESSMENT STAGE
Using a specific physiological, behavioral and tactile approach, each person's SKIN INSTANT,
which is the condition of the skin at any given time,
is assessed so that the most appropriate tailored beauty treatment can be recommended.
STEP 2: THE INITIALIZATION STAGE
Like many skin specialists, Doctor Allouche believes that the epidermis is central to skin care.
It is the skins outer layer and the ultimate barrier
that protects the integrity of our inner world. The epidermis should receive customized treatments
applied according to a precise and rigorous ritual.
This stage is essential and the core of the Biologique Recherche skincare collection.
STEP 3: THE TREATMENT STAGE
During this stage, products containing the highest concentrations of active ingredients are applied
to "re-condition" the epidermis and help activate both its regenerative properties
and those of the skin's deeper structures.
The skin is a complex organ designed for protection and communication that regenerates
miraculously every month throughout our entire lives.
The unique benefits of these cutting edge, customized skin care treatments are both immediate and lasting,
even for particularly imbalanced SKIN INSTANTS.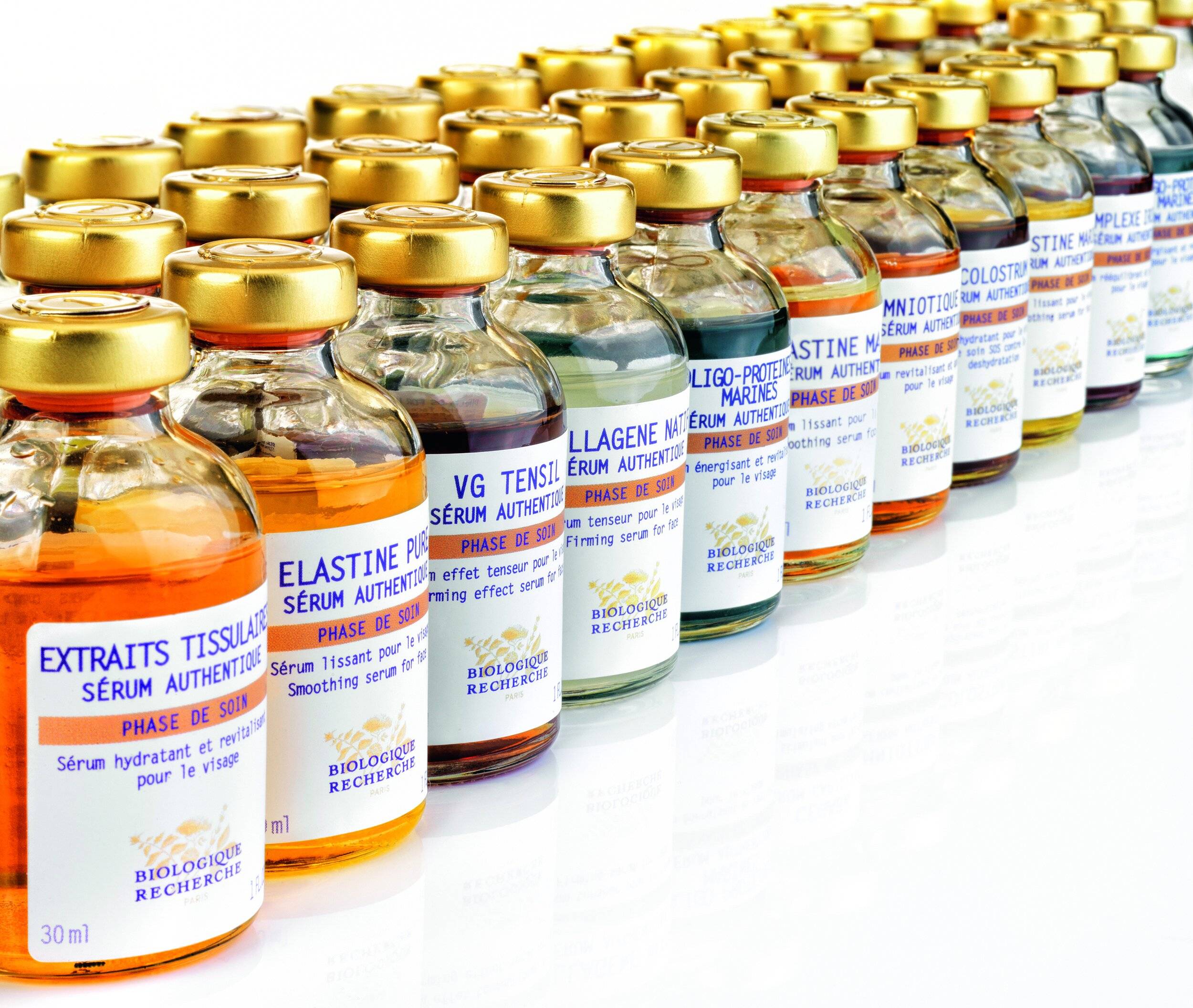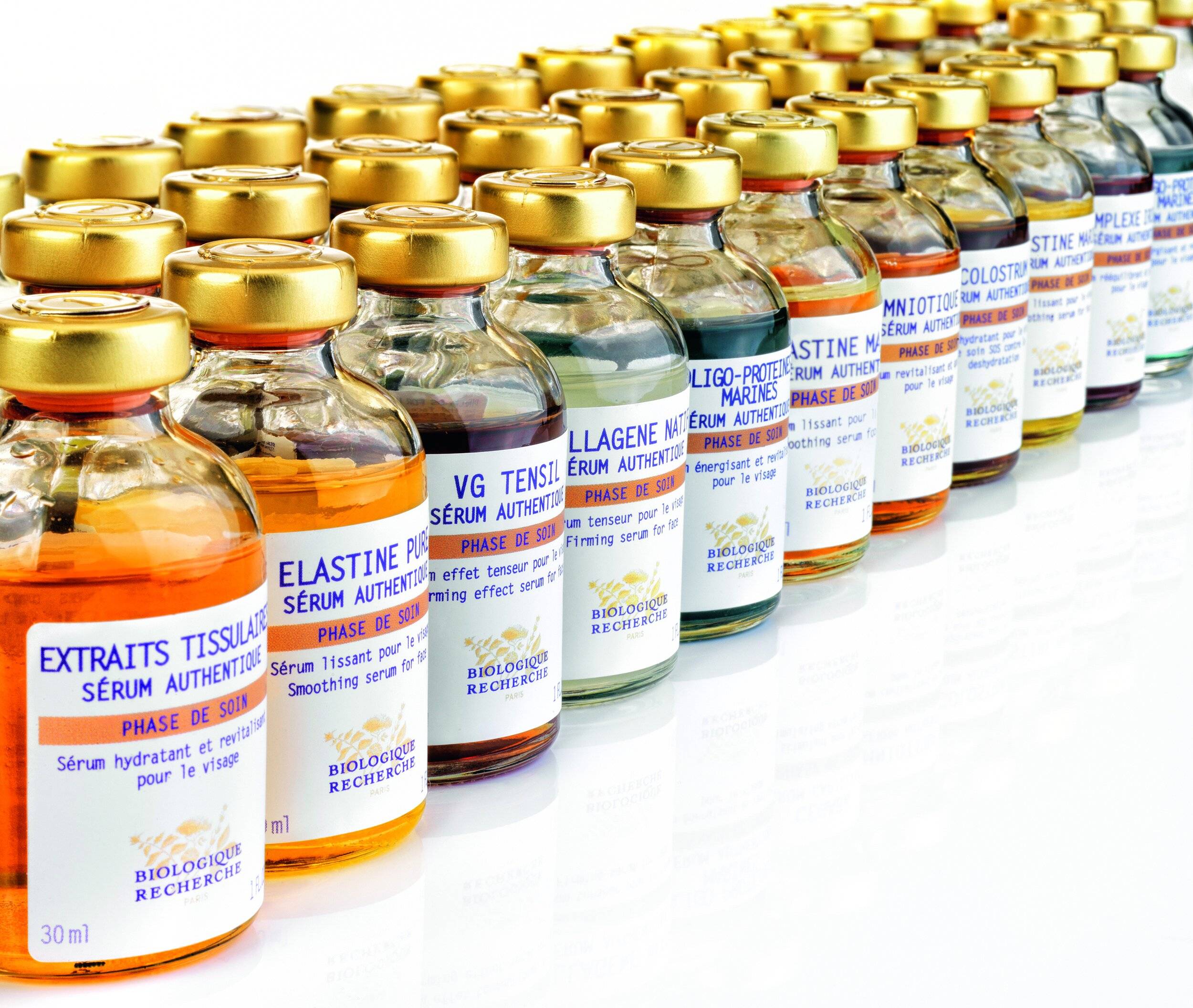 Click below and our team will prepare your items or suggest alternatives...